Runnin' Late is a Delaware based classic rock band with influences from both jazz and blues. Around the core of bass, drums, and guitar, we feature keyboards and saxophone, enabling us to cover territory often untouched by traditional guitar-based rock bands. We mix covers with originals - with a debut CD released in 2014. Runnin' Late was a finalist in the 2014 WMGK Rock MD competition held at the Keswick Theatre.
If you're into groups like Van Morrison, Steely Dan, Chicago, Lynyrd Skynyrd, Bruce Springsteen, Supertramp, Joe Cocker, Dave Matthews, and more, come check us out. You won't be disappointed!
Find Us on Facebook

Runnin' Late Hosts 2017 Christmas Jam @ the Queen
Now on iTunes - Runnin' Late Debut CD!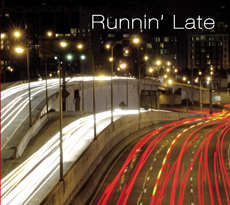 Runnin' Late's debut album was released to a SOLD OUT Queen Theater in Wilmington, DE on February 21, 2014. Produced by drummer / recording engineer Steve Breske, this self-titled compilation features 11 originals plus one quasi-original version of a classic cover. Unlike bands whose song writing centers around a single member, Runnin' Late's originals were created with lyrics and music from four of the six members and a heavy dose of creative input from the other two. Purchase a CD at any Runnin' Late show or download digitally at iTunes, Amazon.com, and CDBaby.
Upcoming Shows
Pogue Mahone's Irish Pub
Rockin' Prospect Park

910 Chester Pike
Prospect Park, PA
(610) 583-7070
Saturday Night, November 4
8:30 PM to 12:30 PM

Pogue Mahone's
Showorks Christmas Party
Private Event

Rockwood Museum
The Carraige House
Sunday Night, December 17
6:30 PM to 10:00 PM

Showorks
The Queen Wilmington
Wilmington Homegrown Christmas Jam

500 North Market Street
Wilmington, DE
Friday Night, December 22
7:30 PM to 11:00 PM

Tickets