Members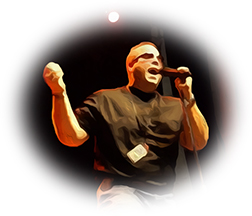 George Zlupko
Vocals, Harmonica, and a little Trumpet
George's musical influences begin in the backwater blues towns of the Mississippi Delta with names like Muddy Waters, Red Rooster, and John Lee Hooker. It then crosses the Atlantic and finds voice in the likes of Robert Plant, Eric Clapton, Joe Cocker, Roger Daltry, and Mick Jagger. Back stateside, it melds with country to form Southern Rock in groups like the Allman Brothers, Lynyrd Skynyrd, and ZZ Top.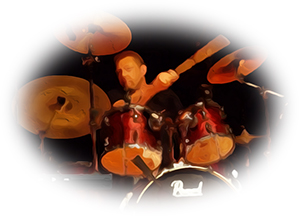 Steve Breske
Drums, Lead & Backing Vocals
Steve began playing drums at the tender age of 10, courtesy of a "Sterling Beat" kiddie set that his Grandma bought him at the old Toy World in Prices Corner. He added a silver-sparkle Zim-Gar snare from the Swapper, some crappy cymbals, and a hi-hat stand from the JCPenney catalog (yeah, baby), and played the skins to records on a turntable that he rewired to a big-ass 12" speaker taken out of an old TV/stereo cabinet. Early vinyl included the 45 of Le Freak (Chic), the Saturday Night Fever soundtrack, and Kiss Alive II. After moving up through several used "real" kits over the years (ever heard of Mica-Sonic?), he finally bought his first new set (Pearl Export Series 5-piece) in 1993 (cheap bugger!) Steve prefers Paiste cymbals, although his ride is a wonderful old Zildjian, and there is one Sabian thin crash in the mix. Influences include Stewart Copeland, John Bonham, Neil Peart, and Alex Van Halen. Steve played and sang for The Rhythm Method back in the early 90's, and has sat in from time to time with other bands over the years.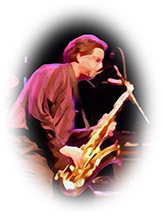 Kevin Brace
Saxaphone
Kevin grew up in Woodstown, NJ (suburb of Cowtown) in a hotbed of absolutely nothing. He started playing the Alto saxophone in third grade and switched to Tenor in sixth grade. Kevin continued playing the saxophone through high school, performing in the various school bands, and forming or trying to form numerous bands outside of school. After high school Kevin attended West Chester University and earned a degree in Marketing, but not playing the sax much until after he graduated. Since then he has played in a wide variety of musical ensembles from an avant-garde jazz band called "Firedance" to a dance/funk band "The Works", as well as pit orchestra's and church ensembles. Besides Runnin' Late, Kevin also plays with a jazz/world fusion group "Flying on Instruments" which plays originals, jazz standards and a wide variety of music from around the world. Kevin's gear includes a Selmer Super Action 80 tenor saxophone, an Alpine Soprano saxophone (soon to be upgraded) , and a Yamaha WX11 Wind Synthesizer w/ a WT11 and VL70M sound module. His influences include Michael Brecker, Branford Marsalis, Wayne Shorter, John Coltrane, Joe Henderson, Sonny Rollins and Jeff Coffin.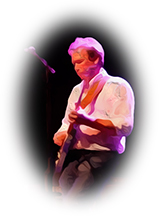 Elliot Lord
Electric Guitar, Lead & Backing Vocals
Elliot has been singing and playing guitar, bass and mandolin since the age of 12. Prior to that, he was forced to take piano lessons which he hated (now he loves to play the piano, even though his 15 yr old daughter is better). He started his first band "Hallucination" at the age of 13. They didn't really know what that meant, just that they thought it sounded cool. Various high school, college and early 80's bands were ESP, Small Change, and Pangea. They performed primarily original songs with a few covers thrown in, so that people wouldn't walk out. Elliot's influences include Jimmy Page, Jeff Beck, Steve Howe, Alex Lifeson (i.e. some of the usual suspects) as well as John McClaughlin, Al DiMiola, etc. Elliot likes any guitars that stay in tune, but is partial to a couple of Fender Telecasters and Stratocasters and a Takamine acoustic. He'd like to have a Gibson Les Paul, 335 or ES-175, but has to settle for an SG he recently bought, since he didn't buy a Les Paul in the 80's when they were cheap.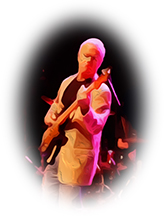 Mark Samworth
Bass
Mark began playing music in 3rd grade when he took up the trumpet. He played trumpet and baritone horn through junior high school until he left "organized music" because his band teacher refused to consider playing Led Zeppelin at the spring concert. Mark then took up bass guitar and helped form the band "Paragon" in high school - playing school dances and other events. He played off and on through college, then with "Green Eggs and Sam" in the 90's. He has sat in with numerous bands over the years. Mark likes rock and and jazz and particularly rock with a jazz influence. He also writes original music. Mark does not sing. His singing is so bad that he struggles to sing his own originals when teaching the melody to Runnin Late's real vocalists. He plays a Fender Precision bass because that's what the music store sold him when he asked for a "regular bass". He has a big black amp (his description).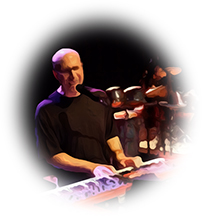 Scott Leonhard
Keyboards & Backing Vocals
Scott started playing trumpet at age 9 and picked up keyboards at age 13. Scott is a founding member of The Rhythm Method, a rock and top 40 band where he developed a passion for electric keyboards and synthesizers and met drummer Steve Breske. Since then he has played in various bands ranging from big band to hard rock.